Meet the great players of JAZZistry, Our "Jazzhistorians":
Vincent York
Founder, Artistic Director and Bandleader. Alto/tenor/soprano saxophones, clarinet, flute, piccolo, oboe
Born into a family of musicians, York was introduced to the music of Charlie Parker in the 9th grade, thus igniting his exploration and love for jazz. He attended Southern University at Baton Rouge as a music education major and became the first jazz studies major under clarinetist Alvin Batiste. After graduate study in classical saxophone at the University of Michigan under Donald Sinta, York toured with the Duke Ellington Orchestra under the direction of Mercer Ellington. In 1977 he formed his own band, Vincent York's New York Force. York has 2 recordings, Blending Forces and The new York Force, which was voted Best Jazz Album of the Year by MetroTimes. York has recorded and/or performed with noteworthy jazz artists including Ray Charles, Marcus Belgrave, Louis Smith, Ella Fitzgerald, Sarah Vaughn and Motown stars such as The Temptations, The Four Tops and Aretha Franklin. He was also the musical director for Martha Reeves.
THE JAZZistry Band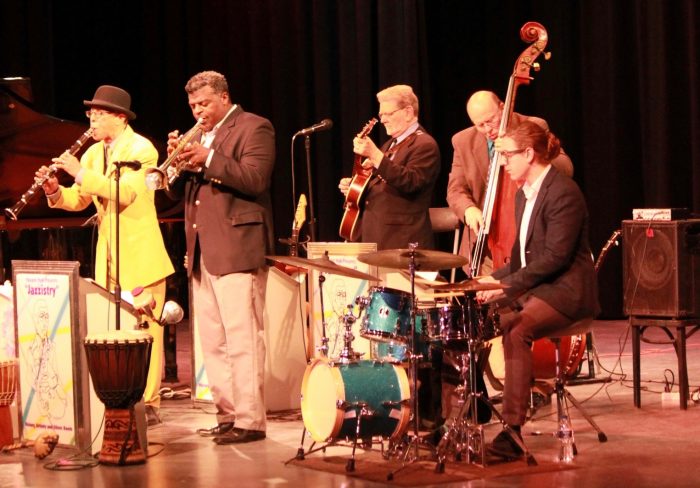 As Jazzistry's bandleader, Vincent York draws on the wealth of outstanding local professional artists to unveil the story of jazz to audiences of all ages, time and again, each time with different twists and fresh interpretation.Every artist performing in Vincent York's Jazzistry has a distinguished career as an independent professional jazz musician. The personality of each musician and the character of each instrument contribute to the collective voice that tells this historic and American story.
Taslimah P. Bey –piano–
Taslimah P. Bey began studying classical music at age 16, then switched to jazz in her senior year of high school.  She started researching ragtime music and the roots of jazz while in college.  When Taslimah heard Charlie Gabriel—clarinet and saxophone player with the Preservation Hall Jazz Band—play his horn, the music she had been reading about came alive. She formed Taslimah's Ragtime Band, which featured the compositions of early ragtime composers, including Scott Joplin, Jelly Roll Morton, Tom Turpin, Artie Matthews, Harry P. Guy and James P. Johnson. For her efforts in performing the music and lecturing on the lives of these highly talented 20th century American composers, Taslimah received an award for the Preservation of African-American Music from the Society for the Culturally Concerned in Detroit. Taslimah has performed at Jazz and Ragtime Festivals across the country, including the Scott Joplin Festival, where she was Artist-in-Residence for 2020, Greenfield Village's Ragtime Street Fair, and the West Coast Ragtime Society's Ragtime Festival.  She has also performed with the Preservation Hall Jazz Band in New Orleans, and at the Blue Note Jazz Café in New York City. The Taslimah Bey Trio has performed at Preservation Hall in New Orleans, under the direction of their mentor, Charlie Gabriel. Recently, Taslimah was inducted into the historical archives at the Detroit Historical Museum as part of Veronica Johnson's Detroit Women in Jazz exhibit.
John Douglas – trumpet, fluegelhorn
John Douglas began his music career while studying at the University of Michigan. In 1991 John and five others formed the band Jazzheads, they earned great success and were bestowed with 3 awards in 1999: the Detroit Music Award for Best Jazz Recording, Best Jazz Group Deserving Wider Recognition, and Best Modern Jazz Group. John continued to tour the US, Canada and Europe with many prominent performers, such as Gladys Knight, Marshall Allen and the Chi-lites. Returning home to Detroit, he formed the John Douglas Quintet, known for bringing energetic bebop and powerful funky jazz style to audiences all over the world.
Rob Bickley –standup bass
Bass We were pleased to have Ann Arbor native, bassist Rob Bickley join the Jazzistry band in 2018. Rob received a Bachelor's of Music from Michigan State University and a Master's Degree in Music from The Juilliard School of Music. While living in New York Rob served as a teaching artist for Jazz@Lincoln Center. Rob has performed at such venues as The Blue Note, Dizzy's Club Coca Cola, Small Jazz Club and Alice Tully Hall. Since returning to Ann Arbor, Rob can be heard performing with top musicians including Vincent York, Sean Dobbins, Rick Roe, Jesse Kramer and Mike Malis. In addition to performance, Rob is an active educator as part of the Vincent York's Jazzistry Band and serving as faculty for the Ann Arbor Public Schools' Summer Music Program. He is a regular clinician at schools across the area. Rob maintains an active private studio, offering lessons and small group classes. His youthful enthusiasm and impressive musicianship bring much to the Jazzistry program.
Josef Deas – standup bass
Josef Deas has spent nearly 25 years studying and expanding his music repertoire for the upright bass. He has performed and even recorded with some of jazz's finest musicians including Wynton Marsalis, Marcus Elliot, John Douglas, George Davison, Marcus Belgrave, Ian Finklestein, James Carter, Vincent York, Vincent Chandler, Donald Walden, Rick Roe, Tad Weed, Gary Schunk, Charles Boles, Scott Gwinnell, Steve Rush, Alma Smith, Dwight Adams, Kariem Riggins, Sean Dobbins and Bill Higgins.
Ron English – guitars, banjo, mandolin
Ron English has enjoyed a long career in music which began in Lansing. Ron has deep roots in the blues, Broadway, bebop, avant-garde, funk, Motown and gospel. Ron's talents are varied and include composer, educator, clinician and adjudicator. He has worked with the Detroit Symphony Orchestra and many Motown groups, he has also toured and recorded with the Lyman Woodard Organization, Rahsan Roland Kirk and Eddie Russ - just to name a few. An integral part of Detroit's jazz scene since the 60's, he was awarded Metro Detroit's Best Guitarist 1991 and 19
Jesse Kramer, percussion
Jesse Kramer is one of the most promising young drummers in Metro Detroit. Jesse has already performed at clubs, theaters, and festivals with some of the top local and national jazz musicians. Born and raised in Ann Arbor, Jesse studied with local masters such as saxophonist Vincent York and drummer Sean Dobbins. While still in high school, Jesse was awarded a Downbeat Magazine Student Music Award for best group, and his trio performed at Detroit Jazz Festival.
We honor the exceptional musicians who have passed over. All significant players, we will always appreciate how these great people devoted their musical talents to spreading JAZZistry's message. Thanks for the memories and great sounds.
George Bennett, Jr. – drums (1950 – 2021)
George was born in Flint, Michigan to George Sr. and Patricia Bennett. As a toddler, he liked to "play" the stone tiles in front of the family fireplace, delighting in the different sounds they made. His mother noticed his fascination, and encouraged her boy's early instincts for percussion. He loved teaching, and stayed in touch with several of his former drumming students over the years. George was deeply romantic and could be brought to tears hearing certain chords or melodies. George's third act as a husband and stay-at-home dad became his most fulfilling and enduring. When his son Daniel was born in 2002, George took on the duties of co-parenting with devotion and joy, instilling in his son his own passion, ear, and sensitivity for music. George in retirement became a gentler version of the man he'd always been: tender-hearted, thoughtful, empathetic, creative, loyal, and devoted to family, friends, and home. As Jazzistry's founding drummer, he always had the snappy beat going, tricks with his sticks, and led the band in the explanation of Afro-Latin rhythms from the Caribbean Islands. When he led Harry Belafonte's Banana Boat Song, the whole audience joined in, singing "Day-O, Day-ay-ay OOO' long after the band stopped. We know that he made it Home in peace. Those wishing to honor George's memory with a charitable donation might consider: Vincent York's JAZZistry: https://vincentyorkjazzistry.org/donatesupport-us/. WEMU https://www.wemu.org/donate#stream/. The Heidelberg project:https://www.heidelberg.org/donate/
Gary Schunk – keyboards (1955 – 2021)
The Detroit jazz scene was stunned to hear of the sudden passing of Gary Schunk. He has been the Jazzistry piano man since 2012. Gary was widely celebrated as a giant of jazz, any style, anytime. He always lit up the audience. Gary Schunk has earned much acclaim as both an acoustic pianist and as electronic keyboardist for his own electric jazz trio Schunk-Starr-Dryden. In 1995, Gary was chosen as one of ten winners in JAZZIZ magazine's "Keyboards on Fire" contest. His composition, Backward Glance, is featured on the JAZZIZ compilation CD as well as his independently produced debut CD, The Key Player. Gary has played with numerous jazz greats, including Joe Williams, Earl Klugh, Pepper Adams, David "Fathead" Newman and many others.
John Dana –standup bass (1941 – 2018)
We were saddened by the loss of Jazzistry's founding bass player, John Dana in 2018. John Dana has been a fixture on Detroit's jazz scene since the 1960s. John is a respected musician, educator and composer. His working experience is wide-ranging and includes stints with Art Blakey's Jazz Messengers, Rita Moreno and the Glenn Miller Orchestra as well as Storytellers, a Detroit-based group teaching ethnomusicology to youth. We were very saddened to loose John suddenly in 2019, after a brief illness. He will always be remembered for gentle manner, sense of humor and his patience with students.
Alma Smith (Mary Alma Foster), The Countess of the Blues and a blessing to everyone who met her was JAZZistry's founding pianist. Her fiery playing could showcase many styles of playing, from ragtime to Bebop. Her blues singing and playing started in Detroit, her beloved hometown, when she was just a teenager. Check out this "soundie" of Alma from 1945 and you will see she really is Blues Royalty.
CLICK the photo for Alma smokin' the keys in with The Counts & The Countess, Five Salted Peanuts. CLICK HERE for an interview with Alma Smith.
Belgrave was tutored by Clifford Brown before joining the Ray Charles touring band. Belgrave later worked with Motown Records, and recorded with Martha Reeves and the Vandellas, The Temptations, The Four Tops, Gunther Schuller, Carl Craig, Max Roach, Ella Fitzgerald, Charles Mingus, Tony Bennett, La Palabra, Sammy Davis Jr., Dizzy Gillespie, Odessa Harris[4] and John Sinclair, plus more recently with his wife Joan Belgrave, among others. Belgrave was an occasional faculty member at Stanford Jazz Workshop and a visiting professor of jazz trumpet at the Oberlin Conservatory. Belgrave died on May 23, 2015, in Ann Arbor, Michigan, of heart failure, after being hospitalized since April with complications of chronic obstructive pulmonary disease and congestive heart failure. CLICK the PHOTO for filmmaker Bret Primack's portrait of the Jazz scene in Detroit, featuring trumpeter/teacher Marcus Belgrave, with Congressman John Conyers, bassist Marion Hayden, and percussionist Gayelynn McKinney.
Louis Smith – trumpet
(1932 – 2016)
Jazz fans recognized the presence of mastery when Louis put his horn to his lips whether to play lightning speed bebop or a languid, loving ballad. Louis represented Ann Arbor around the globe through his recordings for Steeplechase Records and participation at International Association Of Jazz Educator Conferences. Even with these accomplishments, Louis Smith was taking trumpet lessons after retirement from the Ann Arbor Public Schools. He wanted to improve his "long tones" and strengthen his embouchure. His presence on the bandstand was warm, inclusive and intelligent. He never talked down to you. Yet, you always learned something from Louis Smith and Louis was always learning more about his craft.... Louis' legacy lives on with his legion of students, his impressive Blue Note and Steeplechase Records, his contributions to jazz education on a national level and his beautiful smile that included twinkling eyes. ... If you haven't heard his music, youtube has many classic Blue Note sessions available. Listen and learn why trumpeters such as Nicholas Payton and Brian Lynch count Louis Smith as a significant influence. His influence on jazz in Ann Arbor was beyond significant. It was penultimate. Thank you Louis Smith, for a musical life very well lived. *From a tribute by WEMU 89.1 FM), 2016.
Additional JAZZistry Musicians
Dwight Adams – trumpet, fuegelhorn
Dwight Adams hails from Detroit and has long been considered a gifted musician. At the age of 16 Dwight appeared with the Teddy Harris New Breed Be-Bop Society Orchestra. Dwight has twice received the Metro Times Spirit of Detroit award (1993 and 1996), he leads The Dwight Adams Quartet, is featured in many Detroit bands, has toured with Stevie Wonder, and has played and recorded with Vincent York's New York Force.
Al McKenzie – piano
Al McKenzie is an accomplished pianist, music director, composer, arranger, band leader and educator. Al has toured extensively with many recording artists including The Temptations, The Four Tops, The Motown Group, Anita Baker, Martha Reeves, The Spinners and Etta James, just to name a few of many. As former music director and keyboard player for The Temptations he offered his wide-ranging experience and innate talent to promote and enhance the close soul harmonies and fancy footwork of one of Motown's legends.
Glenn Tucker - piano
Glenn Tucker is a versatile up-and-coming jazz pianist, organist, composer, and arranger. Glenn has studied privately with Geri Allen, Tad Weed and Vincent York. Glenn has also been mentored by Detroit-area piano greats including bebopper Claude Black, James Dapogny, and Gary Schunk. His professional jazz career started with subbing for Dapogny and Black at age 15 and gigging at the Firefly club with Paul Keller, Los Gatos and the Easy Street Jazz Band. He has since worked with area greats Marcus Belgrave, Andrew Bishop, Vincent Chandler, Mike Karoub, George "Sax" Benson, and Greg "Vibrations" Williams. He is also sought-after by his peers, playing with the hip hop collective Tree City, and appearing on saxophonist/composer Marcus Elliot's debut CD "Looking Forward".
Rick Roe – piano
Rick Roe won First Place in the Great American Jazz Piano Competition in 1994, and was a Semifinalist in the Thelonious Monk International Jazz Piano Competition in 1993 and 1999. Rick has also been a featured performer in the Jacksonville (Florida) Jazz, Savannah (Georgia) Onstage International Arts, Montreaux/Detroit Jazz, Birmingham Jazz, Lansing Jazz, Flint Jazz, and Hawaii Jazz Festivals. Rick has served as a clinician and educator at the University of Arizona, North Texas University, Michigan State University, the University of Nevada, Las Vegas, the University of Michigan, and the Montreaux/Detroit Jazz Festival.
Zach Saginaw – percussion, electronic instruments
Zach Saginaw is an electronic music producer and drummer. Zach trained as a jazz drummer and calls his music "instrumental, electronically-produced music that is jazz and hip-hop influenced." Growing up in Ann Arbor he was heavily influenced by old jazz and Motown artists and developed his sound in the Detroit music scene. He has released four studio albums with the record label, Ghostly International, since 2010 in addition to releasing three EPs since 2008. In 2015, he played electronics for Dave Douglas's High Risk project with drummer Mark Guiliana. Zach has also done multiple North American and International tours.